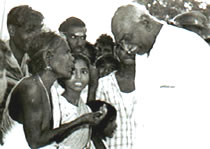 Our Tributes and Salutations to late Mr.K. Kamarajar,the ex.chief Minister of Tamil Nadu, whose untiring works in primary education could not be evaluated and explained in words.

CHILDREN




St. Antony Nursery and Primary School

In everybody's life, childhood is a crucial and special time and a child's rights to survival, health and education should be fulfilled. In the Education sector, our organization is running St. Antony Nursery and Primary school in VIRUDHUNAGAR and the students are from poor and middle class families. This School has been established by us to impart better education to these children in par with the rich children. Our motto is morality based education to our students.


ACHIEVEMENT IN YOGA BY OUR STUDENT




Yoga, an art of righteous living for the benefit of body, mind and inner sprit is taught to our students from the K.G. level itself. Our U.K.G. student, J. Raji, aged 4 years got third position in the Tamilnadu State level Yoga competition for students below 8 years conducted on 11 & 12th October 2008. Kids from more than 100 schools allover Tamilnadu participated in this competition and Raji got this prestigious position .She got Bronze medal and a certificate.