ORPHANS:
The orphaned children living without both parents, brothers, sisters and relatives must be helped legally and rehabilitated so that they can live a normal life.

While children living with parents even need to be cared for better food, health and education for their meaningful role in the society ; we can imagine how the orphaned children should be cared.
The role and works of organizations and individuals running orphanages should be praised and appreciated. Financial assistance to the orphanages need to be increased ,since most of the orphanages are facing financial crisis to provide even food to the children. ORPHANS ARE GOD'S CHILDREN; they should be cared and their basic needs fulfilled.
The 1989 convention on the Rights of the child (CRC) adopted by the General Assembly of the UNITED NATIONS clearly envisages the Right to Survival with the basic needs of food, shelter, health and a reasonable standard of living.
More attention should be focused on the financial position of orphanages and the best start of children in life should be ensured

Food provided by our organization to the orphaned children of Mercy Home in the church of South India campus at Aruppukottai.
Aiding the Disabled

There are several million disabled people in india who need special care and efforts should be taken for the betterment of them through education training and employment.UNITY CHARITABLE TRUST is working for the disabled by identifying them, financing them and giving them a very good status in the society.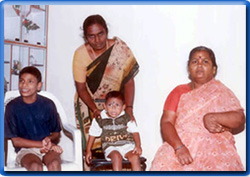 our founder with a disabled lady and two mentally retarded boys. The lady and the mothers of these two boys are our S.H.G members.
A SON's DETERMINATION, A MOTHER's LOVE
The story of D. VIJAYARAJAN, a Blind Craftsman
By the time he was 18, D. Vijayarajan had lost nearly all of his sight. The complaints had started in fourth standard, though medical check-ups continued to pronounce him normal and Vijayarajan, once an avid cricket player, found himself able only to listen to broadcasted scores of the game he so loved.
This gradual weakening of the optic nerve didn't keep him from serving as a member of the National Cadet Corps ( NCC), and with his mother's help, Vijayarajan sat his exams and earned his 12 th standard certification.
On top of her responsibilities as a school helper with a meager wage, his mother D. Thangeswari, one of our poor women's self help group members takes care of her son and taught him the craft he uses to occupy his time and support the family, his father having left.
Once harboring the ambition of joining a Bank, Vijayarajan now sets sights on running a telephone booth with his mother or a stall of his hand-made woven wares.
His mother says she is proud, since her son is doing something; Vijayarajan is simply happy because his mother is with him.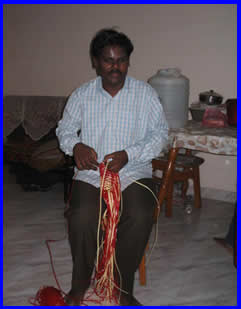 Poverty alleviation
Poverty alleviation and assisting the poor is a common
theme for the humanities in the world. we have an unshirkable responsibility to eradicate poverty with our passion and unremitting efforts. By meeting the basic food and clothing needs of the rural poor of our society, UNITY CHARITABLE TRUST plays a vital role in the fight against poverty.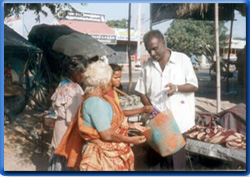 Our volunteer distributing free dresses to a nomadic group at virudhunagar.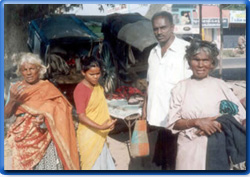 Illiteracy Eradication
Education empowers humanbeings, strengthens society and is a key factor for attaining of a nation's development goals. Our organization strives for the cause of basic education to all.
AGE CARE
The elders should be respected, cared and placed in the mainstream of family life. "JOINT FAMILY" a distinguished family setup in India is in a diminishing rate due to change of life styles and increase in generation gap. While the laudable works and policies of the State Goverments and Central Goverment are encouraging, the efficient, effective and direct involvement of NGOs in this field is essential.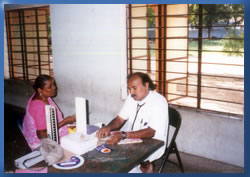 Dr.S.M.Rathinavel, a social worker and wellwisher of our organisation in a camp for the aged.